Hotel Style Wake Up Calls at Home or on the Road!
The most affordable wake up call service!
Looking for a solution to your sleep-in problem? Or do you need a reminder service?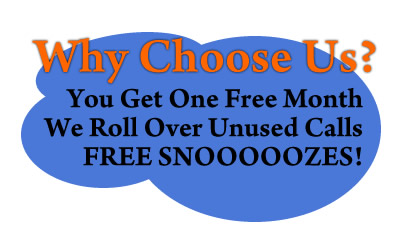 WakeUpCalls.net is the solution for you. WakeUpCalls.net is great for many things, such as travel or at-home wake ups, medical reminders, or just general "I can't forget to tape my favorite show" or "I need to bid on that eBay auction" reminders. We offer several different types of unique wake up calls and reminder calls at an affordable low price!
Free Roll Over Calls
Now when you have a monthly wake up call / reminder call plan your unused calls will be rolled over to the next month!
Cheapest Rates
Not only do we offer the lowest price, WakeUpCalls.net has many wake up call plans that cater to different individual needs. We have single-use plans starting at $0.75, and up to 120 calls per month for $14.00. When you purchase a monthly plan you also receive unlimited email reminders! We are also willing to create a plan that would work specifically with your needs or the needs of your company. Sign up Here to Get a 31 FREE calls!
Free Snoozes
All accounts receive unlimited snoozes because we know how hard it can be to get out of bed!
Need a Business Solution?
WakeUpCalls.net specializes in wake up calls and reminder calls for the individual, but we love to work with companies to provide unique reminder solutions for their employees. We can also do follow-up calls for your company to ensure that your customers are happy with their products or your services. WakeUpCalls.net can help your company boost its productivity! Please contact us if you would like more information on your corporate needs.
Please check out what WakeUpCalls.net can do for YOU!